Grow a Garden with Flowers Always in Bloom
By: Arlene Castro
Now that we are in Spring, flower fever has begun. I don't know about you but I love planting flowers. I came across an article in 5280 Home Magazine and had to share this helpful information. If you want to grow a flower garden always bursting in color the entire season then these flowers will help to achieve that goal. Here is a list of flowers to plant:
Basket of Gold Blue Flax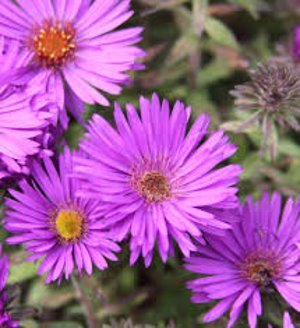 Tri-Color Butterfly Bush Purple Dome Aster
In May: Basket of Gold, Dwarf Daylily, Front Range Penstemon
In June: Dwarf Cranesbill, Hudsker Red Penstemon, Blue Flax
In July: Tri-Color Butterfly Bush, Red Knockout Rose, Osteospermums
In August: Hummingbird Trumpet, Sunset Hyssop, Mexican Sage
In September: Purple Dome Aster, Chocolate Flower, Joe Pye Weed
Local garden experts shared this bit of advice of easiest plants to keep alive in the Front Range:
Red Valerian (perennial) blooms from May until frost

Ice Plant (low growing ground cover) can handle direct sun exposure
Blanket Flower (Sunflower origin) has an extended bloom time and doesn't need much water
I hope this information is helpful in making your garden more colorful. We are always here to help you with any real estate related questions including gardening.
Happy Mother's Day & Happy Spring!
Resources: 5280 Home